– Online Training –
Radiation Safety Training
Watch radiation safety training videos online and get certified so that you can be OSHA compliant. In less than half an hour, these step-by-step videos will equip you to successfully minimize the duration and intensity of exposure to ionizing radiation.
An online course to help you minimize exposure to ionizing radiation and become OSHA-compliant.
You will learn:
What ionizing radiation is
What harmful effects over-exposure to radiation can have
How to lower your exposure [ALARA]
How to use protective equipment to limit radiation exposure
Best practices to limit occupational exposure to radiation
Best practices to protect others in their work environment from radiation exposure
Enjoy immediate access to quality training from the convenience of your own desk so that you can execute your knowledge and excel in your workplace.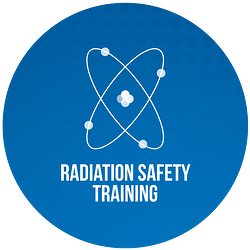 Watch the video below and then click the button to take your Radiation Safety Training test to become certified!